National Cybersecurity Awareness Month (NCSAM) 2023
…start from the basics!
Introduction
Children in the 21st century are born into a digital world; they are constantly online through various devices such as smartphones, laptops, and other gadgets. The internet is always with them, wherever they go, which makes it essential to protect them from cyber threats.
Cybersecurity for children is a vital issue, but many children and young people do not have enough awareness or access to quality online security. Research shows that more than 40 percent of them have shared or will share personal and sensitive information on the internet, which can expose them to risks. This article aims to explain cybersecurity for children and help parents and educators to start conversations about it.
The Internet accompanies children wherever they go, making cybersecurity for children an increasingly crucial issue to address.
Steps to Demystify Cybersecurity to Children
1. Obtain Your Education First
To teach kids about cybersecurity, you need to understand it yourself first. The internet is full of dangers, but you can't protect and educate children about online safety if you don't have enough knowledge.
There are three types of online threats that kids may face:
Strangers and Predators: A common tactic of online predators is to deceive children who use social media and online gaming platforms. They often pretend to be someone else and ask minors for their login details, payment information, and other personal data.
Catfishing is a deceptive activity in which a person creates a fictional persona or fake identity on a social networking service, usually targeting a specific victim.
Peers and Mates: According to some reports, the online world is not only a source of information and entertainment, but also a place where children may face harassment and abuse from their peers. These peers can be either friends or strangers who engage in cyberbullying against other children.
Self or Loners: Without proper supervision, children may encounter harmful or malicious content on the internet, or click on links that may compromise their safety. They may also unintentionally reveal personal information on a public platform that could expose them to risks.
To safeguard children on the web, it is important to be aware of the potential risks they may encounter. You can also set a good example for them by following best practices for online safety yourself. This way, you can teach them how to be cybersecure as well. Some of the best practices are:
Don't share your personal or sensitive information online and be careful about what you post.
Use strong, complex passwords.
Adjust your privacy settings on social media platforms.
Adhere to the same or similar online rules that you would recommend to your children.
These tips — and staying updated on cybersecurity — are the first step to ensuring your and your family's online security.
2. Document and Communicate Internet Expectations
Before using the internet, you need to set and follow some internet rules for your household. These rules will help you use the internet safely and responsibly, and they will also help you understand the risks of online activities.
Some of the internet rules you should have are:
Use strong passwords for your online accounts and keep them safe
Don't use the same password for different accounts or share it with others
Be careful about how you present yourself online and avoid creating fake profiles
Don't give out any personal information online, such as your name, address, phone number, etc.
Limit the amount of time you spend on the internet and on screens
Check the permissions and ratings of the apps you use or download
Follow the instructions and permissions for installing new apps
Don't make any online or in-app purchases without permission
When you set internet rules, you should try to balance them between being flexible and protective. As your children get older, you can involve them in the discussion about their internet rules.
Make and sign a family media contract after you agree on the internet rules. This will help everyone to be responsible for their online actions and to stay safe on the internet.
3. Be Proactive, Use Empowerment-Based Approach
The Internet can pose many dangers, but it does not have to be a source of fear for children or adults. Instead of trying to deter children from using the Internet with threats, it is more effective to teach them how to safeguard themselves online by giving them confidence.
They will probably respect you more and take their online safety seriously if you entrust them with it. Moreover, do not assume that a child knows everything about cybersecurity. Rather, ask them what they understand and help them learn what they are missing.
This kind of proactive approach can help to build a child's trust in an adult. Educating children about cybersecurity is not a one-sided lecture; both parties need to be aware of the risks and take care of their own security.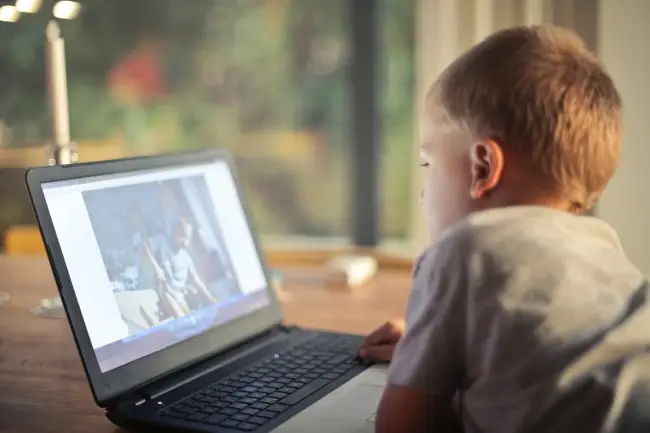 4. Establish a Secure Environment
A child may make a mistake or break an internet rule even if you use an empowerment-based approach. You want to be the person a child trusts to contact in this situation.
Check your child's online behavior regularly and have your family media agreements ready, but be open to changing expectations as your child grows. Also, make them aware of the dangers of online activities and promise them that you will support them if they face a difficult situation.
5. Invest in Cybersecurity Tools
Educating kids on how to stay safe online is crucial, but it is not enough. You should also implement security solutions or invest in cybersecurity tools that can enhance your online protection. Some of the security measures you should consider are:
Antivirus software, which can scan and block harmful software from infecting a system.
VPNs, which safeguard users as they surf the web or use public networks.
Password managers, which can help in securing credentials across multiple platforms.
Content blockers, which can control which applications or websites a user can access.
6. Teach Cybersecurity Vocabulary
One of the first steps in educating children about cybersecurity is to introduce them to the relevant vocabulary. Even if they do not fully understand how these concepts interact, it is important to explain them.
Some of the cybersecurity terms that children should learn are:
Cybercrime: Illegal activities on the internet that involve a computer or a network
Digital footprint: The data that is left behind and can be tracked, monitored and stored when someone uses the internet
Encryption: A system of codes that protects information when it travels across a network or a system
Firewall: A system that prevents unauthorized access to a network or a system
Hacker: A person who breaks into a computer network
Internet: A global network of computers
Internet of Things (IOT): A group of objects that can connect to the internet and have an IP address
Internet Service Provider (ISP): A company that provides internet service
IP address: A number that identifies each electronic device
Malware: A kind of harmful software that can damage electronic devices
Modem: A device that connects to the internet
Router: A device that connects all the electronic devices in one location and allows them to join the same network
Virus: A kind of malware that can harm and destroy network systems
It is advisable to review these terms frequently and add new ones as well. This way, children will be able to communicate with you if they encounter a dangerous situation online.
7. CHOOSE AGE-APPROPRIATE RESOURCES
Cybersecurity is a complex subject that can be hard for children to grasp. To help them learn about cybersecurity for kids, it is important to provide them with suitable resources that match their age level. Some examples of such resources are educational apps that can be downloaded